Tilly's Recipe Ideas - Manhattan Beef Stew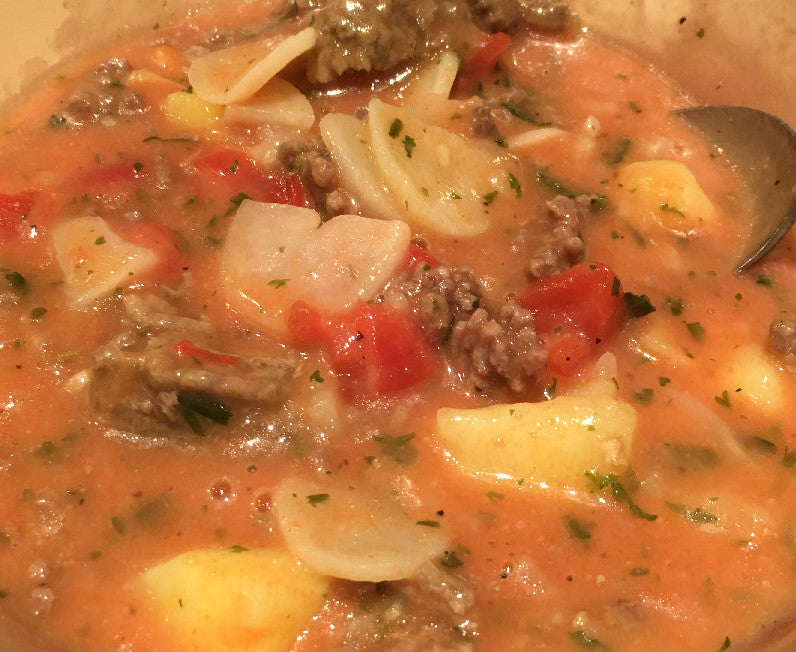 Do you love hamburger soup?  How about just looking for a new, warm, go-to hearty stew?  You have to try this, it's one of our personal favourites:
You will need:
- 1 package Tilly's Manhattan Style Chowder mix
- 2 cups boiling water
- 1 cube beef bouillon
- 1 can (14oz) chopped or diced tomatoes incl juice
- 1 cup (240mL) milk (dairy or non-dairy)
- 1/2 lb (220g) ground beef
Directions:
1. Bring water to a boil in medium saucepan, add bouillon and stir to dissolve.
2. Remove spice pack from package and set aside.  Add vegetables to the bouillon in saucepan.  Cover and let sit 12 mins to re-hydrate vegetables.
3. Brown the ground beef while veggies are re-hydrating.
4. Stir seasoning pack into milk, then add to saucepan. 
5. Add tomatoes (with juice) and cooked, crumbled beef to saucepan.
5a. Optional: if you have any leftover potatoes or other veggies in the fridge, throw them in too.
6. Bring to a boil over medium-high heat, stirring frequently.  Reduce heat to LOW.  Cover and simmer 15 mins, stirring occasionally.
Makes about 6 cups!
Instant Pot tip:
If you forgot to thaw the ground beef, not to worry!  Throw a frozen 1lb brick of ground beef in your Instant Pot before getting started and it'll be ready in perfect time to add to the stew:
- Put one cup of water in the Instant Pot
- Place the frozen beef on the trivet
- Ensure the valve is in the sealing position
- Pressure cook on high pressure for 20 minutes then quick release
- Use a knife or pastry cutter to mince up the cooked beef
You'll only need half of it for this recipe so put the rest in the fridge or freezer for another day.
---
Leave a comment
Comments will be approved before showing up.